Ruff-Ride PTZ
Weatherproof Mobile PTZ
with Vibration Dampening System
& Now Available with Broadcast TV 59.94 Frame Rate Output
The New Ruff-Ride HD Mobile PTZ from Rugged Marine is designed for Rough Service and Mobile Applications. This tough, Weatherproof PTZ Camera is completely waterproof to IP67 standards and has an internal Heater that will keep this PTZ Camera operating at temperatures down to -50°F Below Zero (-45° C). 
This HD 2.2 Megapixel Mobile PTZ can output HD Video in a variety of Formats:
720p/25 – 720p/30 – 720p/50 – 720p/60

1080p/25 – 1080p/30

1080i/59.94 The NEW Broadcast TV Setting! (SMPTE 294M)
This tough, rugged Mobile PTZ Camera has been designed to mount in any orientation on

Broadcast TV Trucks

Off-Road Vehicles

Command Centers

Telescoping Masts

Ships & Boats

Machinery

Cranes

Hydraulic Manipulators or Arms

Special Purpose Trucks & Machines

Construction Equipment
 The Ruff Ride HD-SDI allows users to call features and setings on the fly via Preset numbers on the PTZ Controller you choose to use with the camera.  This allows users to go to preset positions, call up the wiper, turn on & off Digital Image Stabilization, Wide Dynamic Range, Freeze a Picture On-Screen, Turn the Lights On & Off (or change Lighting Power level), Change Shutter Speeds, and many other Features by simply inputting a Preset number.  Gone are the days of having to call up the Menu, then negotiate through several layers to change a simple setting.  The Ruff Ride Works the way you need it to work.
  Rugged Marine has a partner company that makes the Ruff-Ride case for this PTZ, then we assemble it with our own SONY 30X Zoom Modulewith Wide Dynamic Range (WDR), and our own MaxNight software that boosts the available light in low light situations.  We have now developed the new Firmware for Broadcast TV compatibility as well.
  The Ruff-Ride Mobile PTZ comes with a special Vibration Dampening Plate with 5 Heavy Duty Springs that deliver a smooth ride under severe jarring and engine or motor vibration conditions.  Couple this with SONY's Digital Image Stabilization (DIS) settings, and you have two ways to combat shaky footage. (Not to be confused with the Digital Noise Reduction setting, which only works well in Black & White mode for low light amplification).
Choose Between Two Types Of On-Board Lights
The Ruff-Ride HD-SDI Mobile PTZ carries it's own lighting for lighting up the area in low light conditions. The Model with Infrared Lamps is commonly used where invisible IR lighting is needed, and is viewed by the camera in Black & White (Mono) mode. The White Light Model is used where visible light is desired and a Color picture is needed. Here are more of the lighting features:
On-Board Lighting (Infrared Lamps or White Light Lamps Models Available)
390′ Infrared or White Light Range (120 Meters)
High Beam & Low Beam Settings for both Lighting Models
Model with Infrared Lights will automatically turn on Lamps in low light settings, and can be automatically switched from Low to High Beams depending on Camera Zoom distance
Model with White Light Lamps controls the Lamps via a Preset setting and can be turned on or off at anytime – day or night
Since the Ruff-Ride Mobile PTZ is designed for Inspection purposes as well as Surveillance, we offer models with either type of lighting you will need, and let you control the Power Settings as well. (choose Infrared or White Light model when purchasing)
Even More Great Features:
The Ruff-Ride Mobile PTZ is the most advanced PTZ on the market, and there are many more features available on this camera. Here are a few more:
SONY Ex-View HAD 30X Optical Zoom/12X Digital Zoom Module with 2.2 Megapixel 1080 HD output, and all of the great SONY features, such as: WDR, Day/Night Operation, Video Freeze, etc.)
Waterproof & Weatherproof Sealed to IP67 standards – handles Rain, Snow, Ice and Dust
Two-Speed Hidden Wiper clears the lens of water and fogging, and can be operated at Normal Speed or High Speed
Heating and Defogging Systems can be turned on or off with Preset entries using any PTZ Controller
Auto-Heating before Boot-up during extreme cold conditions
Wide DC Voltage Range – perfect for Mobile applications (10-32V DC with Anti-Surge and Polarity Protection)

New Drive Motor System is very smooth and will not add any jerking or vibration to the video, even when moving at high speed.

Features a precise positioning system with repeatability of positions to within +/- 0.05º

Three PTZ movement speeds: High, Normal and Slow (settable via Preset entries)

Change the Camera Address easily with software settings

Image Flip (flips the picture around to facilitate mounting the camera upside down)

Easy Mount System employs a base plate that is mounted to a surface, then the camera is locked into place on the plate

Auto Cruise Patterns, Auto Scan, Random Scan and Frame Scan Features (see full list of Preset Functions in Manual)
Hundreds of these cameras are in use all over the World on everything from Police Vehicles, Masts, Construction equipment and even Ships & Tugs. Choose the best engineered camera in the industry. Choose the Ruff-Ride Mobile PTZ. 
Models: (no cost difference)
Ruff-Ride-HD-IR (Infrared Version)
Ruff-Ride-HD-WL (White Light Version)
Included Vehicle or surface Mount

Ruff Ride Mobile PTZ Specifications
| | |
| --- | --- |
| Image Sensor | 1/2.8" type solid state Progressive Scan CMOS |
| Effective Pixel | 1920(H)X1080(V) |
| Video Format | HD:1080p/30,1080p/25,1080i/60,1080i/50,720p/60,720p/50,720p/30,720p/25; SD:PAL/NTSC |
| Optical Zoom | 30X |
| Digital Zoom | 12X |
| Min Illumination | 0.4 Lux (Lights Off ); 0 .04Lux (Lights On) |
| White Balance | Auto |
| Focus | Auto/Manual |
| Exposure | Auto/Manual |
| S/N Ratio | Not less than 50DB |
| BLC | On/Off |
| WDR | On/Off |
| Image Stabilization | On/Off |
| Digital Noise Reduction | 1~3 Steps/OFF |
| Day/Night | Auto/Manual |
| Lens | f=4.3mm~129mm, F1.6 to F4.7 |
| View Angle | 63.7° (wide) to 2.3° (tele) |
| | Pan Tilt Zoom |
| Pan Range | 360° continuous |
| Pan Speed | 0.04° -90°/s, adjustable |
| Tilt Range | -15°~90° with auto flip |
| Tilt Speed | 0.3° ~60°/s adjustable |
| Preset Speed | Pan: 120°/s; Tilt: 90°/s |
| Preset | 256 |
| Preset Precision | ±0.05° |
| | Infrared Light Model |
| IR Wave Length | 850nm |
| IR Lamp Power (with driver) | 30w |
| IR Light Power | 10w |
| IR Range | 390′ Feet |
| IR Switch | Auto/Manual |
| | White Light Model |
| Color Temperature | 6500K |
| Lamp Power (with driver) | 30w |
| Brightness | 2100 LM |
| Range | 390′ Feet |
| Switch | Manual |
| | General |
| Comm. Interface | RS-485 |
| Protocol | PELCO-P / PELCO-D (self-adaptive) |
| Baud Rate | 2400bps, 4800bps, 9600bps, 19200bps (self-adaptive) |
| Address | 0-255 |
| Voltage | DC 10 – 32V |
| Power Consumption | 12W (Standby); 55W (Defogger and lights on) |
| Working Temperature | -50°F ~ +150°F |
| IP Index | IP67, TVS, Anti-Surge |
| Dimensions | 11.81″ (H) x Φ7.50″ |
| Weight | 12.5 lbs |
Ruff Ride PTZ Dimensions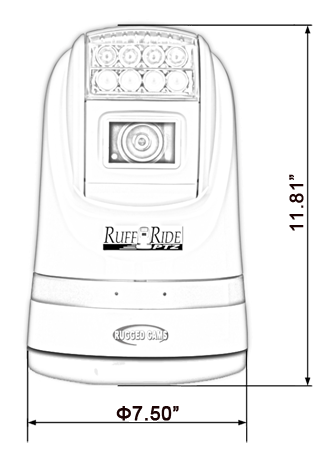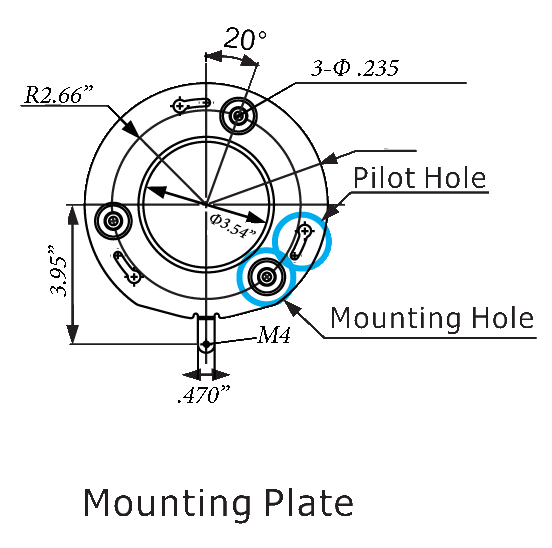 On-Board Lighting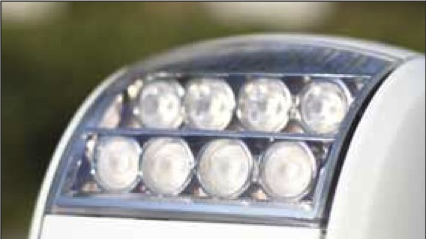 Dampening Plate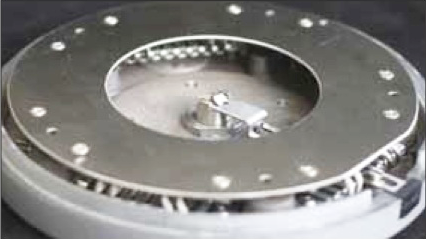 Hidden Wiper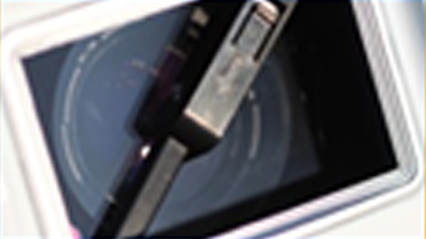 Image Stabilization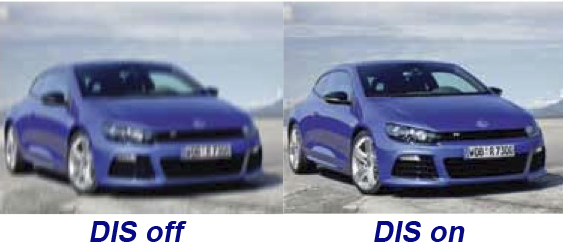 Vertical Surface Mount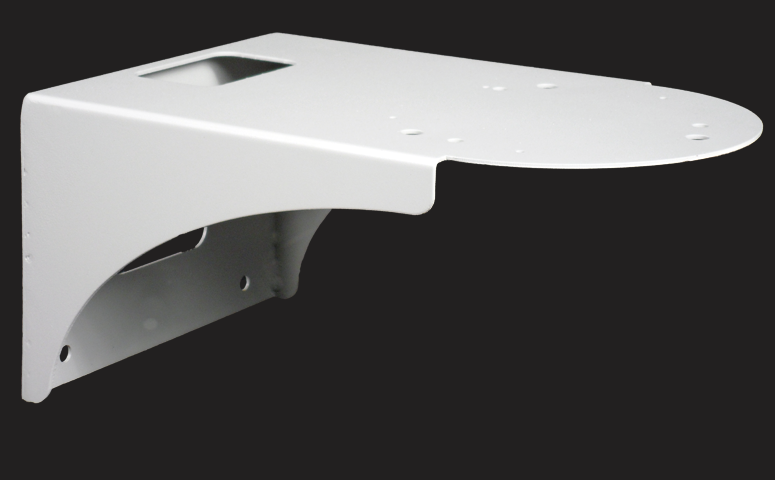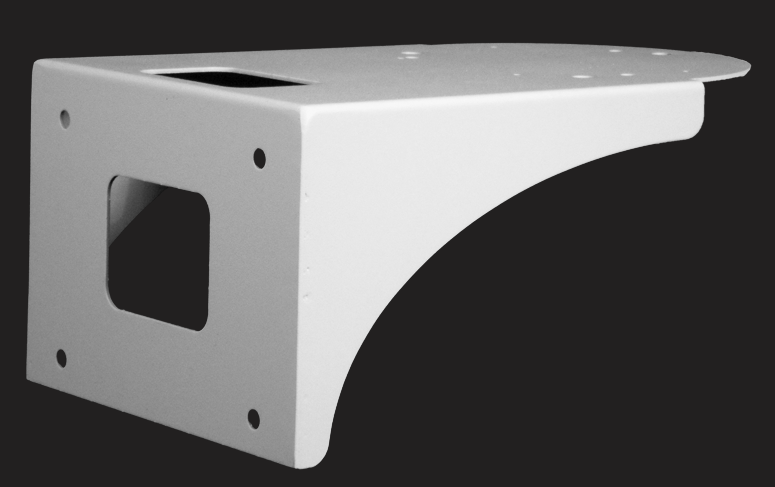 Mount Dimensions