Rugged Marine 9Inch LCD CCTV monitor is great for use on confined spaces, automobiles, boats, farm equipment and many other places.
This 2 Channel monitor also has Audio in and out connections the video inputs are standard BNC female connectors, power connector is a 2.1mm male plug and the 2.1mm female plug is included. 12v DC power supply is also included.
We even include a mounting bezel to make installation a professional appearance.
Screen Size: 9 inches
Display Mode: 16:1
Format: PAL/NTSC
Power Supply: DC 12V
2 Video / 1 Audio input
Card Style Wireless Remote
9″ LCD CCTV Monitor Specifications
| | |
| --- | --- |
| Display Size | 9″ (in) Diagonal |
| Format Ratio | 16:9 |
| Resolution | 800 (H) x 480(W) |
| Video Input | 2 BNC Connectors |
| Operating Temperature | 32° F to +104° F |
| Brightness / Color / Contrast | Adjustable |
| Operating Power | 12v DC |
| Audio Input | composite (RCA) |
| Audio Output | Headset Plug (earphone) |
| Dimensions Monitor Only | 9-1/8″(W)x 6-3/8″(H)x1″(D) |
| Dimensions Mounting Plate | 9-5/8″(W)x6-7/8″(H)x1″(D) |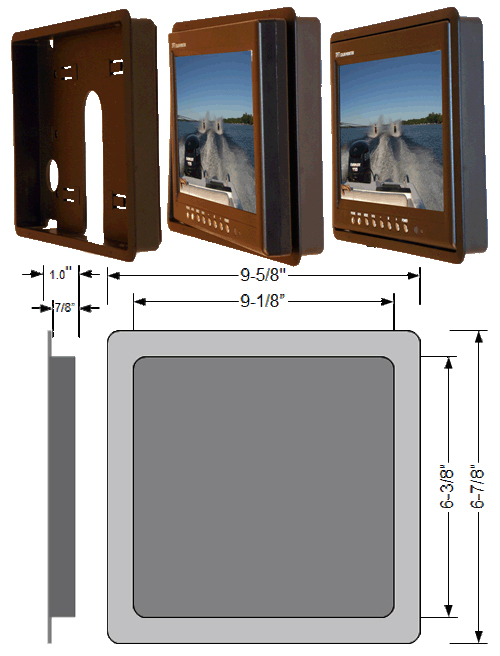 9″ Monitor Back View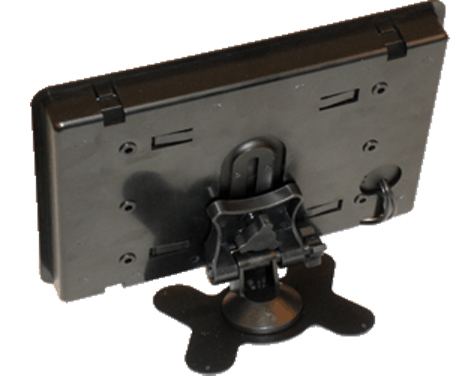 Flush Mount Bezel